Anchor Requirements Blue Yellow Code. Today we are taking a look at what size anchors you are required to have on your CVLA Vessel.
No matter what category you are in, you need a Main and a Secondary anchor.
You will have anchor and chain and rode size requirements to meet.
Does it matter which type of anchors I have?
Not as long as it meets the requirements.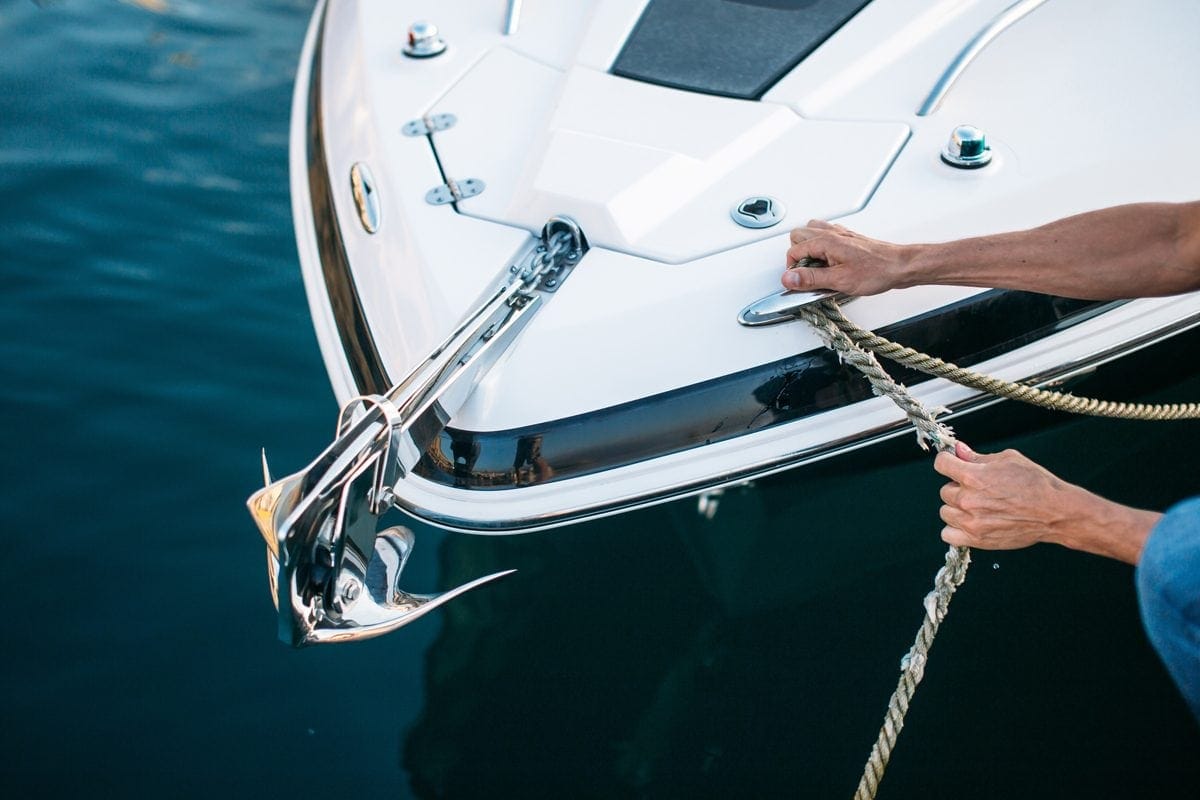 Common Anchors in the Virgin Islands
You can pretty much be guaranteed that about every commercial vessel in the Virgin Islands has one of these above on it.  If you want to check out which anchor may be best for your boat, have a look at West Marines Guide here. You are always welcome to call us for additional guidance.
Any Boat that has an anchor over 30 Kg, must have a windlass. The inboard end of the anchor cable must be adequately secured. Any anchor fairlead or roller must be fitted with a retainer pin.
Boats that are in category 0.1.2, or 3 must also have an anchor light.
Calculator for changing Kilos and Millimeters into Pounds and Inches
Choose your main anchor of the first chart and the second anchor off the Kedge Chart
Main Anchor
Fortress
weighs
6m
anchor 8kg
chain 6mm
rope 12mm
fortress FX7
4lb 1.8kg
7m
anchor 9kg
chain 8mm
rope 12mm
fortress FX7
4lb 1.8kg
8m
anchor 10kg
chain 8mm
rope 12mm
fortress FX7
4lb 1.8kg
9m
anchor 11kg
chain 8mm
rope 12mm
fortress FX11
7lb 3.2kg
10m
anchor 13kg
chain 8mm
rope 12mm
fortress FX11
7lb 3.2kg
11m
anchor 15kg
chain 8mm
rope 12mm
fortress FX16
10lb 4.5kg
12m
anchor 18kg
chain 8mm
rope 14mm
fortress FX16
10lb 4.5kg
13m
anchor 21kg
chain 10mm
rope 14mm
fortress FX23
15lb 6.8kg
14m
anchor 24kg
chain 10mm
rope 14mm
fortress FX23
15lb 6.8kg
15m
anchor 27kg
chain 10mm
rope 14mm
fortress FX37
21lb 9.5kg
16m
anchor 30kg
chain 10mm
rope 14mm
fortress FX55
32lb 14.4kg
17m
anchor 34kg
chain 10mm
rope 14mm
fortress FX55
32lb 14.4kg
18m
anchor 38kg
chain 10mm
rope 16mm
fortress FX55
32lb 14.4kg
19m
anchor 42kg
chain 12mm
rope 12mm
fortress FX85
47lb 21.2kg
20m
anchor 47kg
chain 12mm
rope 16mm
fortress FX85
47lb 21.2kg
21m
anchor 52kg
chain 12mm
rope 16mm
fortress FX85
47lb 21.2kg
22m
anchor 57kg
chain 12mm
rope 19mm
fortress FX125
69lb 31kg
23m
anchor 62kg
chain 12mm
rope 19mm
fortress FX125
69lb 31kg
24m
anchor 68kg
chain 12mm
rope 19mm
fortress FX125
69lb 31kg
Kedge ( Secondary )Sizing Chart
Kedge Anchor
Fortress
weighs
6m
anchor 4kg
chain 6mm
rope 10mm
fortress FX7
4lb 1.8kg
7m
anchor 4kg
chain 6mm
rope 10mm
fortress FX7
4lb 1.8kg
8m
anchor 5kg
chain 6mm
rope 10mm
fortress FX11
7lb 3.2kg
9m
anchor 5kg
chain 6mm
rope 10mm
fortress FX11
7lb 3.2kg
10m
anchor 6kg
chain 6mm
rope 120mm
fortress FX11
7lb 3.2kg
11m
anchor 7kg
chain 6mm
rope 10mm
fortress FX16
10lb 4.5kg
12m
anchor 9kg
chain 8mm
rope 12mm
fortress FX16
10lb 6.8kg
13m
anchor 10kg
chain 8mm
rope 12mm
fortress FX23
15lb 6.8kg
14m
anchor 12kg
chain 8mm
rope 12mm
fortress FX23
15lb 6.8kg
15m
anchor 13kg
chain 8mm
rope 12mm
fortress FX23
15lb 6.8kg
16m
anchor 15kg
chain 8mm
rope 12mm
fortress FX37
21lb 9.5kg
17m
anchor 17kg
chain 8mm
rope 14mm
fortress FX37
21lb 9.5kg
18m
anchor 19kg
chain 8mm
rope 14mm
fortress FX37
21lb 9.5kg
19m
anchor 21kg
chain 10mm
rope 14mm
fortress FX37
21lb 9.5kg
20m
anchor 23kg
chain 10mm
rope 14mm
fortress FX37
21lb 9.5kg
21m
anchor 26kg
chain 10mm
rope 14mm
fortress FX55
32lb 14.4kg
22m
anchor 28kg
chain 10mm
rope 16mm
fortress FX55
32lb 14.4kg
23m
anchor 31kg
chain 10mm
rope 16mm
fortress FX85
47lb 21.2kg
24m
anchor 34kg
chain 10mm
rope 16mm
fortress FX85
47lb 21.2kg