How do I get an FCC Radio License for the USVI?
Going through the process to have your vessel compliant to take between 7 and 12 passengers in the USVI. You require one to be compliant.
"A shipboard radio station includes all the transmitting and receiving equipment installed aboard a ship for communications afloat. Depending on the size, purpose, or destination of a ship, its radio station must meet certain requirements established by law or treaty."
You are not required to have one for recreational vessels in St. Thomas, St. Croix, and St. John.
For our purposes in the USVI Virgin Islands, the following vessels do require one.
Ships certified by the U.S. Coast Guard to carry more than 6 passengers for hire in the open sea or tidewaters of the U.S.;
If you travel to a foreign port ( IE the British Virgin Islands), a license is required.
Additionally, if you travel to a foreign port, you are required to have an operator permit.
The FCC license is good for ten years and is ONLY available to US-flagged vessels.
What do you need to apply for your FCC Vessel license?
Go here and create yourself an account.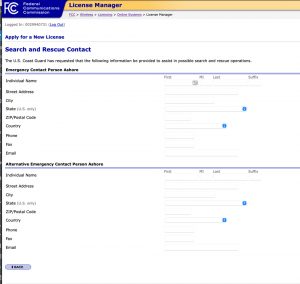 You will need your boat particulars and also two EMERGENCY CONTACTS that are not liable to be on the boat when it is out.
I am going to warn you RIGHT NOW that this is a US Government website and it can be fiddly. I have done many licenses and it still frustrates me at times.
If you put in the wrong format in some fields inadvertently will be locked in an endless cycle of the site tell you that you must put it in as a valid format, but you often find that you cannot take what you have put in and try and refresh the page and continue to receive the same error.
In that case, you will have to generally go to another page and start all over.
How long does it take to get my FCC Radio License?
After you successfully put in the information and pay, you will be able to log back into your account in approximately two days. Then, you can download your license and forward it to us at MyCVLA.
Please keep this FCC Radio License on your vessel.
The Current cost of this online for a ten-year validity is $220.00
We can obtain it for you if you prefer and our cost is $350.00
How do you get a Radio License if you are not US-Flagged?
You may have one from the Country that your vessel is registered in. That is valid for International Waters and when you are in your registered country,
Each country has its own procedure and I do not know them.
If you operate a commercial vessel in the US Virgin Islands for over 90 days in a calendar year you are required to have a local VI registration sticker from DPNR.
With that, you or ourselves can obtain the FCC ten-year license.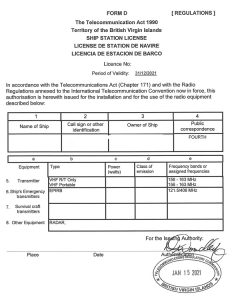 Do I need a local Radio License if I am a foreign-flagged vessel operating in the Virgin Islands?
Definitely! That gives you permission to use your VHF in the area you are operating in and is a requirement.
Technically, both the British Virgin Islands and the US Virgin Islands could require you to have two separate ones. One for each area. This has never been looked at yet nor enforce. But be aware it could in future.
This is $95 per year if I do it, although you can also pay an additional $45. for each additional 4 years and receive one for 5 years. The cost would then be a total of $275.00 through us at CVLA.
This is a good option if you plan on doing your charters in the USVI and BVI. Please let me know if you would like me to obtain one through the British Virgin Islands for you.
I am attaching a copy of the application for the BVI ships station license here. You are welcome to go to this link and provide us with the paperwork. We do many of these applications and can obtain them fairly quickly.
In the British Virgin Islands they will be looking for you to also have your stationary and handheld VHF, Make, Models, and Serial Numbers.
Radios with Digital Selective Calling (DSC) Capability
If you have a marine radio with DSC capability, you must obtain a nine-digit maritime mobile service identity (MMSI) number and have it programmed into the unit before you transmit. Each vessel needs only one MMSI number. Prior to obtaining an MMSI number, you will be asked to provide certain information about your ship. It is important that you obtain an MMSI number because the U.S. Coast Guard uses this information to help speed search and rescue operations.
You have a choice. You can obtain these yourself and provide them to us. Or, we are happy to obtain them for you.
Contact us at MYCVLA for more information