Tender/Dinghy Safety Requirements USVI- Yes, the Coast Guard has recently brought to our attention items that vessels with tenders should be aware of and have on board.
Let me go through what we will be looking for with your CVLA Blue/Yellow Code.
If you have a tender or dinghy for your boat
Is it locally registered?
Do you have your stickers on the tender?
Does your tender have lights? If it is going to running at night it needs to have them. If you are just in one harbor, that is protected, portable lights are fine.
The tender needs life jackets for every person board. They do not have to be worn. but have to be there. If you are using the water ski vests, then they have to be worn by the occupants
Do you have an inboard engine and an inboard fuel tank? Then you need a fire extinguisher
Are you out at night in category 0-3? Then flares are required. Please ask us.
Alternate means of propulsion. Either twin engines or if not you should have oars.
The tender should have a suitable anchor and line
If you do not have a self-draining floor, then you need a suitable pump or means of bailing water.
We will also ask you if you have a capacity plate and how many your tender is rated for. That is the maximum amount of persons you should have at a time in the tender.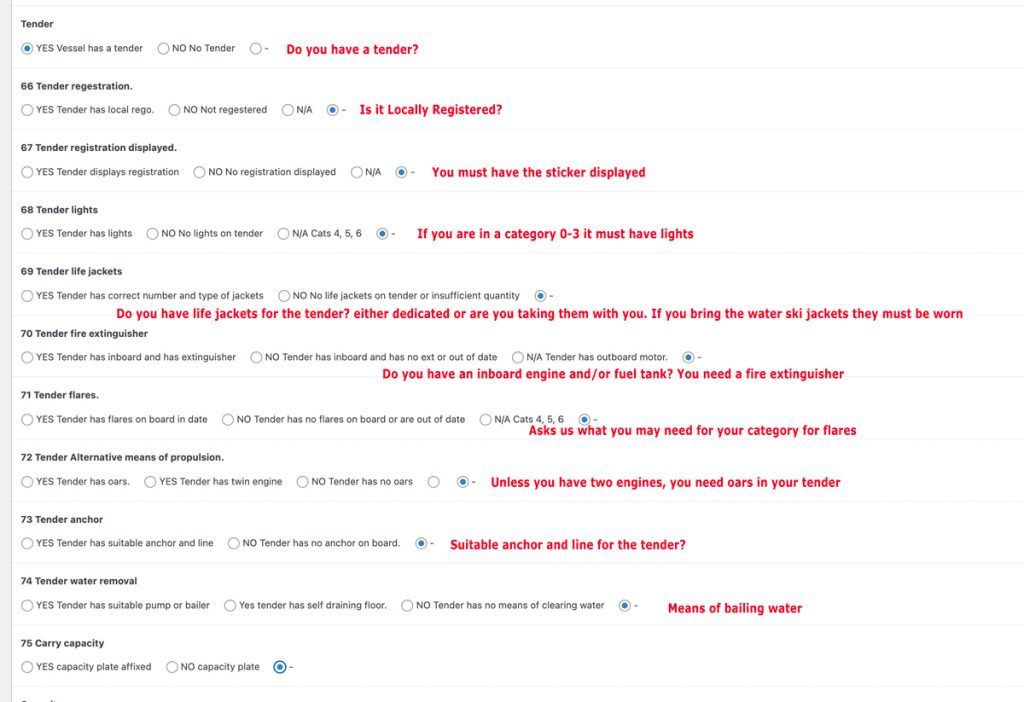 If you do not have your tender registered, then either we or you can do it. Here is the process for USVI Boat Registration.
This is something that has not been as much as a focus over the last while in boating here, but the Coast Guard has indicated they are stepping up inspections and by the time of your next yearly recertification for the CVLA Blue or Yellow Code, you will want to have this completed.